Landing page is where visitors are directed to when they click on a search result from search engines, as well as on advertisements online. These pages can be used to let users know about the date on when your site will be launched. It can also be used to determine the effectiveness of an advertisement and to generate leads. There are several WordPress landing page plugins that you can use to make the creation of these pages more convenient.
10. JustLanded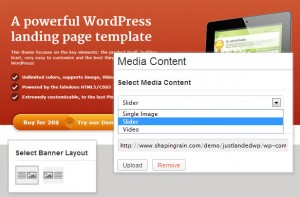 JustLanded is a premium application for easily creating fantastic landing pages on WordPress. One of the best things about it is that you don't need to have knowledge in coding as this is not needed for this program. It offers great features that would surely make your landing page eye catching. Some of these features are unlimited color options, over 500 fonts and style, SEO optimization, amazing admin panel and layered PSD files. It comes with a demo and step by step instructions so you can easily learn how to use it. If you encounter any problems, you can call technical support for assistance. There are 4 price plans to choose from so you can find one that suits your needs. This includes the Basic, which is available for $17, Standard for $27, Premium for $37 and Business for $47.
9. WordPress Spire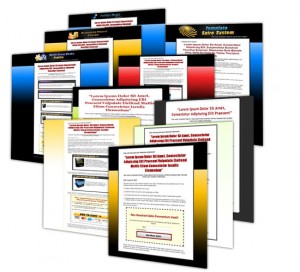 WordPress Spire landing page plugin is available for $67. You may also take advantage of the offer to get the plugin together with Spire WordPress themes for $97. Customizing your landing page is fast and simple with this application. It does not require coding so everything can be done conveniently. Set the height and width of the header to your preference and even add border if you want. The header is the first thing that people see when they get to your landing page so it is important that it delivers your message and that it is presentable.
8. LaunchPad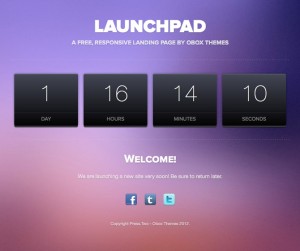 If your site is just about to launch or it is currently under maintenance, you can use LaunchPad to create a landing page that will let visitors know when your site will go live. This application is from Obox, which also offers WordPress themes. However, you do not have to use their themes to use LaunchPad as this is a separate application. Choose your theme and background, as well as add your logo and text on the landing page. Move the elements of the page to the position you like by dragging and dropping them. You may also add a subscribe form and links to your social media accounts.
7. Ultimate Landing Page System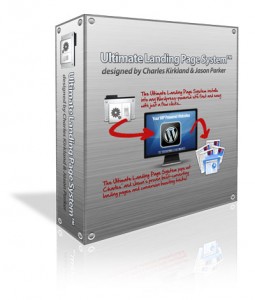 This is a simple and straightforward application that lets you create various landing pages in minutes. It does not have numerous features but it has all the essential ones that you need for making a powerful landing page. Whether you need a countdown timer for your website launch or you need a landing page that would promote sales, this is an easy to use system that can get everything done without a sweat. You can get this product for $27.
6. LaunchPress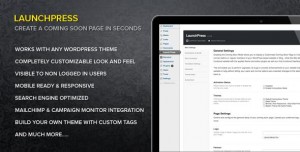 This is another application that you can use if your site is under maintenance. Let your visitors know when your site will be accessible by creating a landing page using LaunchPress. Choose from its built-in themes or create your own design if you know how to customize CSS. You may also include a subscribe option in which users can enter their e-mail. The good thing about this is that you or your administrator can have access to the live changes being made on the account. This will only be visible to you. Users cannot see the site as they can see only the landing page you created. This can prevent them from accessing a site that is not yet completed.
5. Impact Page Builder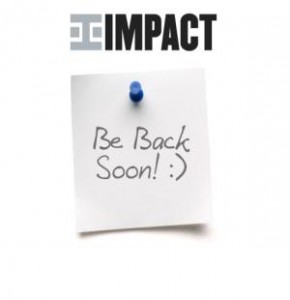 Impact Page Builder is a plugin for creating customized posts and pages, including landing pages, from Eric Hamm. Impact WordPress themes are also available, though this plugin is a separate from those. Because of this, you can create landing pages even on non-Impact themes. It has various options that let you make your landing page attractive and organized. It has a real time preview so you would know how the page currently looks like. You may also add your own CSS, texts and HTML to get the result that you want.
4. MaxInbound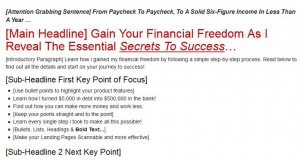 This is a very convenient application for creating sales landing pages. There is no need to take a long time making this type of page as MaxInbound offers templates that you can use. Enter your specific details so they will show on the template. It works with all WordPress themes so it does not really matter whether you are using a premium or free one. If you have lead generation forms like Contact Form 7 or Gravity Forms, they can be easily added to the landing page. The landing page will look the same on any device that it is accessed from.
3. Landing Page Language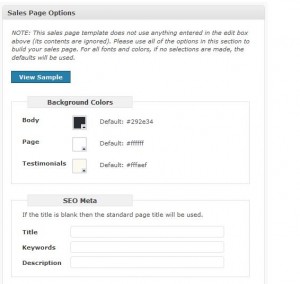 If the visitors of your site have different nationalities, this landing page plugin is beneficial for you. It will redirect the users to a certain landing page that contains the language that they understand. You need to create the said landing pages.
2. LaunchPage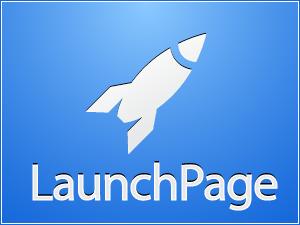 This is a landing page plugin from Pagelines theme framework. Use this application for creating a page that would let users know that your site is currently under construction and will launch on a specific date so they would know the latest update. You may also use this to provide information or make sales from visitors.
1. Premise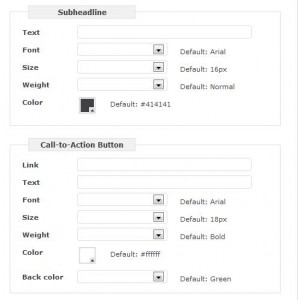 Premise is a great tool that you can use for creating landing pages effectively and fast. You can use this plugin for free within 30 days so you can try its wonderful features. After the free trial is over, you need to purchase the application so you can continue using it. This is available for $165, which will give you unlimited access to the program. Create landing pages with the font, graphics and style you like without any codes.