Online gaming has become a favorite pastime for people of all ages and races. With the kind of easy access provided, there's no limit as to who can enjoy the breaks of very exciting Internet game. As cyber games continue to rise in popularity, so does gaming blogs. That's why there is a constant demand for WordPress gaming themes, which are found effective in keeping people hooked and in the same time well informed about the updates in the online gaming arena.
When choosing your blog theme, it is very important that you choose one that will define the contents of your site. Pick something that is pleasing to the eye. Then again, every different person will have a different take on what is pleasing and what is not, depending on their interests. For gaming enthusiasts, we have gathered the 10 best themes that can be applied to WordPress blogs. What's the next best thing about them? They are free!
1. GamesPress WordPress Theme
This gaming theme is an exciting one with drop-down sub categories and a slider. It is also packed with an easy to use options page so you will not have to worry about customizing. It also enables Gravatars on comments, social media widgets, and social media optimization. This theme is set to take gaming in an online arena to another level.
2. PcGames WordPress Theme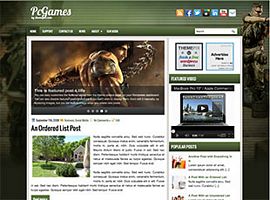 This two-column theme is perfect for those sites that intend to put in a lot of widgets. It has an enormous space of three columns at the footer for widgets alone. It is also powered by an admin or option panel that allows users to navigate to whatever customization type they would like to capture.
3. GamesMania WordPress Theme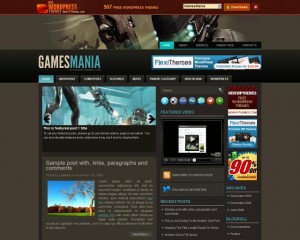 GamesMania is a premium theme that you can obtain free of charge. It has various options that will make any gaming or entertainment page even more exciting. For one, it has a featured content option where you can place featured articles, invites, info on live events, etc. For another, there is an options page where your site visitors can manage the kind of gaming experience they would like to enjoy. This theme also supports post thumbnails.
4. PlanetGames WordPress Theme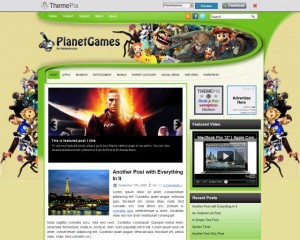 This gaming blog theme is suitable for all types of gaming niche. It is a two-column theme that supports post thumbnail and featured posts. It also has an admin/options panel that allows users to manage their gaming experience. Plus, it has allowances for Twitter and Facebook users.
5. Super Mario Land WordPress Theme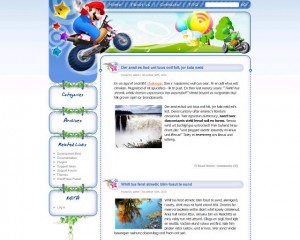 Super Mario has been part of every amazing and memorable childhood. Even while gaming continues to move forward, some people are just left behind with the past, with the Super Mario Land. That's probably why this is one of the most popular WordPress gaming themes, even in this time and age that computer games are in a different phase altogether. This theme might be primitive because it is about Super Mario but it is also as modern as every gaming theme available in the market. It is functional, with a PageNavi, which allows blogsites to enjoy a numeral page navigation even without a plugin.
6. GameWorld WordPress Theme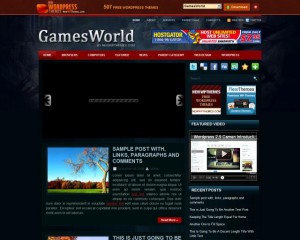 This is another free and exciting gaming blog theme. It has a beautiful, no-nonsense layout that allows for lots of options including an admin page and post thumbnails. It is also ads-ready and SEO-ready, so it is deemed perfect not just for those who want to share their gaming pleasures but also those who like doings business alongside.
7. ActionGames WordPress Theme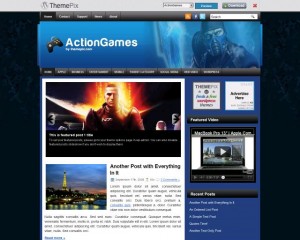 True to its name, this blog theme is ready for some rough action in the gaming arena. This is most suitable for those whose interest is in action and role-playing. It defines how exciting and immense hard action games are. But there's more to love about this theme. It supports post thumbnails and has an easy to use option/admin panel.
8. Bingo WordPress Theme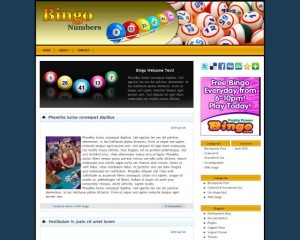 Bingo is definitely one of the most popular and favorite games, whether it is in land-based bingo halls or in online bingo rooms. Nothing beats the excitement and social aspect of this game. That's why there is a gaming theme solely dedicated to bingo. Just like every free gaming theme, this is packed with certain functions that allow for ease of use and easy navigation as well.
9. iSlotGames WordPress Theme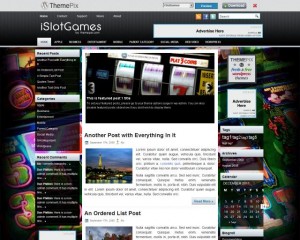 Slots is a world-renowned casino game. It never decreased in appeal, even when there are various games readily available. It has a nice header, nice three-column layout, and an amazing option/admin panel that allows for customization. It also supports post thumbnail image and featured posts.
10. Blitz Casino WordPress Theme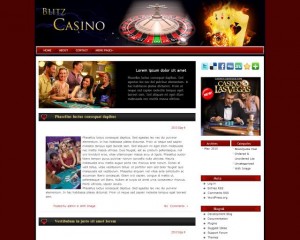 If you are so much into casino gaming, this is one good theme for you to pick. It is armed with the charms of land-based and online casinos combined. The glitz, the glamour, and the colorful streaks are all combined in a nice clean layout, complete with all the functions you need to make your blog site easy to use.
Online gaming is definitely on a roll. It is becoming even more popular with blogsites perusing the best and most amazing WordPress gaming themes that are now available in the market. Since they are also free, there is no need for you to spend anything to enjoy their beauty and functionality, which you can apply to make your blogsite appealing enough for your target audience.