Are you bored with the common themes available in Tumblr? If you are a serious blogger, for whatever purpose, you need to have a catchy theme that is easily viewable from any gadget. To put it simply, you need to invest on the right theme that will invite thousands of fans around the world. Here are the top 10 cool Tumblr themes that you can check to see which will best describe the nature of your awesome blog:
10. Affection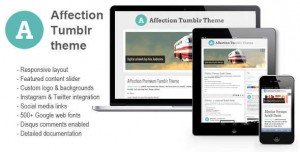 Affection is a Tumblr theme that is feature-rich and responsive. It has a width of 1040 pixels for the desktop computers and can scale down to fit tablets and smartphones. This theme is based on Foundation3, an advanced responsive front-end frameworks. It has a content slider, which makes it possible to have extra exposure to some of the posts, even those that might have been buried on the far pages. The content slider can hold up to 5 images, along with the descriptive captions and links corresponding to the post. You can also enjoy any font coming from the Google Web font library. Affection also features Instagram photo feed, Twitter feed, social media links, custom logo image and many more.
9. Timeline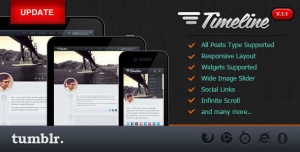 Timeline is a Premium Tumblr Theme designed to your own tumblog in timelines. If you have an active lifestyle, then this is one of the best personal themes that you can use. It supports all the Tumblr Post Types and it also has a responsive layout with carousel widgets. Timeline has a wide image slider and an image upload feature. Bloggers can share their posts to other social networking sites such as Facebook and Twitter. It also provides social links for Facebook, Twitter, Flickr, Google+, Dribbble, Vimeo, YouTube and Skype. If you wish to display posts by date, you can enjoy the Day Pages feature being supported by this theme. It has Disqus comments, Google Analytics, infinite scroll, Tag Clouds widget, Following widget, Post Likes widget, Facebook Like Box widget and Twitter Feed widget.
8. Focus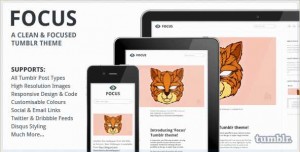 Focus is a Tumblr theme that is of minimalist nature and its adaptive theme is aimed to present your content to any device without the fear of clutter. With this theme, it is easier to change colors and background images. It also supports Disqus, Twitter, Dribbble, Google Analytics and Flickr. Focus also gives you a tailored view of your account to any device applicable. It provides high resolution images and Lightbox. It also has social and email links. Contents viewable are only the ones required, which helps you speed up the delivery of your page. Focus supports all post types, even adaptive photosets.
7. Rapture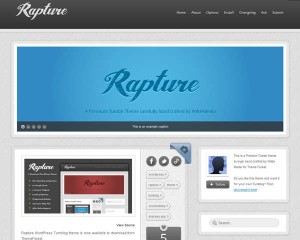 Rapture is the perfect theme for personal blogs, group blogs and business blogs. It has an image slider to feature your best work, which you can switch off if you wish. It provides you with an extensive amount of options that allow you to freely customize your blog with minimal code exposure. You can also switch off all the widgets in the sidebar using the Appearance menu. 10 Google fonts await you in the Options Panel and it has a PrettyPhoto Image Viewer. All post types are being supported as well as DisQus comments, which can be shared to Facebook, Google+ and Twitter. Updates are free.
6. Luomo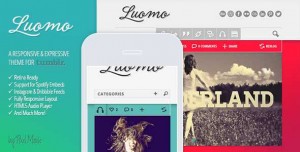 Luomo is an expressive Tumblr theme that has a responsive layout created by Pixel Moxie. The theme is designed for the display of your media at large sizes for great control over every post color palette. You can tailor the design of this theme according to your heart's content. Its screen size adapts to the size of the device you are using without sacrificing quality. Posts can also be filtered by tag and it has responsive photosets with the FlexSlider. It has Google Analytics and Disqus with Twitter and Flickr feeds. Luomo is supported by Google Web Fonts and supports social icons such as deviantArt, Dribbble, Facebook, Instagram and many more.
5. Chocolate T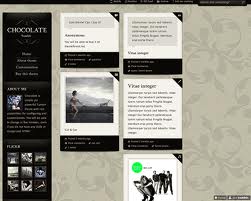 The Chocolate T theme has a more sophisticated look with its light gradients and shadows. It offers two post sizes, S and L. It has ready-made backgrounds that you can choose from for your Tumblog. You can also enjoy placing Twitter and Flickr widgets as well as social links. Cufon fonts are being used for the navigation and headers. You also have the freedom to show and hide blog options like description and the people you follow.
4. Popcase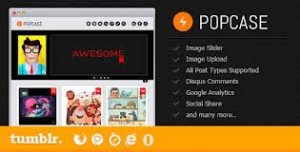 Popcase has 3 column layouts with unlimited color scheme and is suitable for displaying your masterpieces. It has an image slider, image upload and supports all post types. It also supports DisQus and Google Analytics. You can also feel free to share your posts to Twitter, Google+ and Facebook with the social icon links, Twitter feed widget, Facebook Like Box widget, Post I Like widget and Following widget.
3. Optic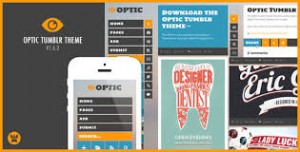 Optic has been highly rated by themeforest for the responsiveness of its layout. You can zoom in and out your browser, but still be amazed by its elegance. It is the perfect theme for any blog type and features the Masonry jQuery plugin so you can showcase your masterpieces with complete focus. The theme is fully customizable and you can freely pick fonts from the Google fonts library.
2. Tumblr News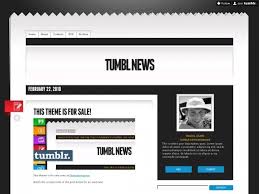 The Squared Magazine or Tumblr News theme was designed to create a magazine feel, along with the popular magazine functions such as the Related Posts widget and Latest Articles widget. It has a built-in Facebook Like Box and Flickr Feed. It also supports DisQus and has a Tag Cloud widget.
1. Mason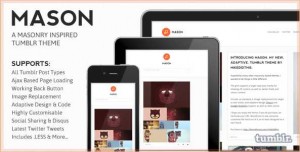 Mason is a Tumblr theme designed to present your blog content in a masonry based view. It is fully customizable and supports Disqus, Google Analytics and Twitter. This theme provides a tailored view to any device application. It supports high resolution image replacement that includes retina support. It also supports all post types, including Submit and Adaptive Photosets. You can share your posts to other social networking sites.