One of the best ways to get higher sales when it comes to online marketing is through the use of landing pages. As the name suggests, landing pages are basically web pages that people are directed to after clicking an advertisement. There are a lot of websites offering free and paid landing pages depending on your needs and peculiar requirements. Almost all of them offer the same features and benefits but the designs and contents differ in a lot of ways. Having a landing page for the first time would take a lot of effort especially for beginners. Free landing page templates are advised for beginner's usage to have a better feel at first. Free templates almost have the same options as the paid one's so there is actually no loss in trying them first.
10. 90SecondSqueezePage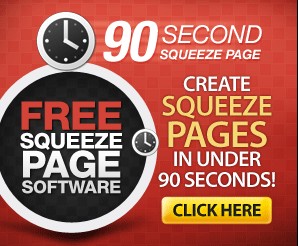 If you want to create a fast and easy landing page then 90SecondSqueezePage is the right tool for you. The best thing about this landing page template is that it takes no more than 90 seconds for you to make your own page. This is quite impressive considering how much time is saved. This landing page generator has a simple interface making it easy for beginners to use. Another good thing about this generator is that all the features and perks come free of charge.
9. Launch Effect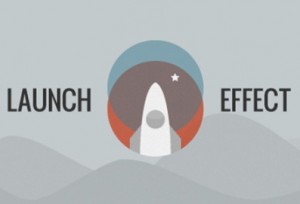 A newly created landing page template that will surely capture your attention is the Launch Effect. Its state of the art features and options allows the user to create magnificent landing pages that will attract viewers from all walks of life. It has very powerful yet easy to use tools to make everything inside your landing page a work of art. Another cool feature of Launch Effect is the reward points that you can earn through referrals that you've done.
8. Instapage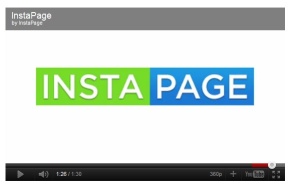 Instapage has been in the landing page industry for several years and has established itself as one of the most prominent and viable options when it comes to creating wonderful and varying templates. It has easy to use features as well as well rounded templates suit different tastes. Even though this is a paid application, it does offer a 30 day trial period which allows the user to test the template free of charge.
7. ProAffiliate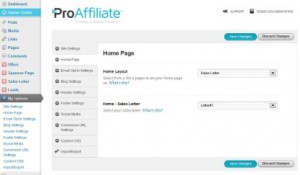 Coming from the creators of the infamous Mojo-Themes, ProAffiliate offers a simple yet sophisticated landing page system. It is simple in terms of usage and maneuverability of features, and it is sophisticated in terms of output and end product. This is the proof that even things that are made in a simple way could end up sophisticated and good looking. This system has ready-made templates that are ready for any task. The interface is very user friendly and allows anyone to create a wonderful landing page in a just couple of minutes. You don't need to be an expert to be able to use this system.
6. Convertible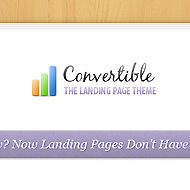 Convertible is like any other type of landing page creation system. It has a drag and drop option making that makes it more easy to use than its competitors. It also has options giving the user to control the size of the page, thus making more room for personalization. The great thing about this system is the use of custom modules that allows you to have the option to incorporate anything you like in the page. And last but not the least Convertible can be availed for as low as 50 cents!
5. Land Ahoy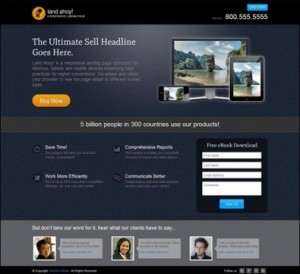 Looking for a responsive landing page creation system is very hard to find. There are so many to choose from that the problem is getting the right one for the job. If you are looking for an easy to use responsive landing page that will cater to your every need then Land Ahoy is the perfect option for you. This landing page system is created to be compatible to almost any type of gadget now available in the market. It has wonderful features that will surely satisfy you landing page needs.
4. Lando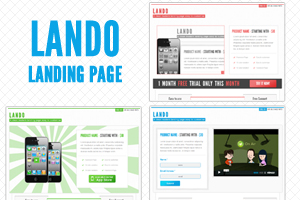 As simple as it may sound, Lando is really just a clean and plain landing page template. The main feature Lando is that it has a Facebook variation with different layouts. This allows the user to have more freedom in customizing the template to suits the needs of the landing page, depending on its target market. You have three options when it comes to the layout. This will give you the edge competitively in making your landing page more desirable and suitable for the content you are planning to incorporate.
3. Landa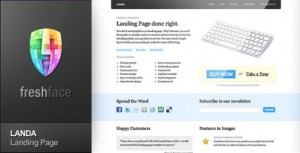 Landa is one of the simplest yet also one of the most powerful landing page templates you could ever use. It does not boast of any out of this world features. Landa is a template considered to be ready for action anytime. It is very easy to use and is it instantly prepared to accommodate all the content you want to incorporate into the template. You may also preview your finished product for final touches or revisions before publication.
2. mfx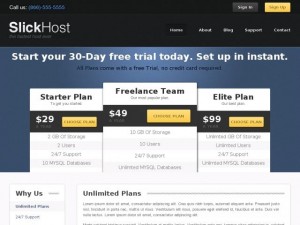 Mfx is another wonderful template for your landing page needs. This responsive system allows anyone to access the page on any type of mobile platform or computer system available. It can be opened on any browser making this template one of the most sought after landing page systems in the market.
1. JustLanded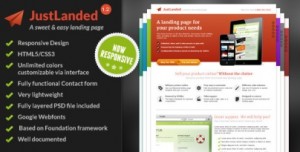 If you want the ultimate landing page then you need to have JustLanded on your side. It is said that the main goal of the creators of this system is to turn viewers into regular paying customers. It has the crucial elements necessary for a landing page to be successful. The system does not take a lot of space but it delivers high quality content. It also allows the user to easily customize the page to suit varying needs that might arise from time to time.