Whether your website is for photography, fashion, art, business, or any other purpose, you would do well to choose responsive themes that make your site ready for mobile access anytime and anywhere. A responsive WordPress theme with minimalist leanings could be the ideal design option for your site if you want mobile users to have the optimal browsing experience. Since we are biased towards minimalist designs, we have chosen to feature the following responsive themes that are fully adaptable, customizable, and just gorgeous in their simplicity. We have also chosen them because they are also very easy to manage and we want to lend a hand to beginning bloggers who are looking out for every possible help available. And so, without further ado, here are ten of our favorite minimalist WordPress themes. This is our guarantee. You'll find any of these absolute perfect for your simple blogging needs.
10. Lugada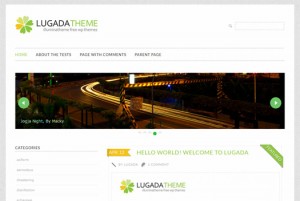 This theme is intended for blog-based sites that focus primarily on content. Lugada's main features are the following: two columns for content, custom header, menu and widget, built-in slider. It also has built-in social network sharing buttons so that you can immediately connect with friends and potential subscribers and followers. This first pick on our list utilizes HTML5 and enjoys the benefits of this very adaptable and innovative markup language. You can check out the live demo and find out whether this responsive theme is for you.
9. Cubismo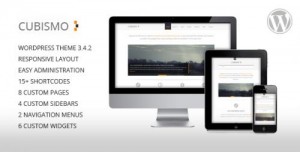 The best thing about Cubismo is that it is very easy to manage and administer. Even newcomers to the blogging industry will find the template easy enough to work with. This is a grid-style blog design that is fully responsive, adapting to mobile phone screens with ease. And it also presents beautifully on big screens, so it doesn't really matter where you view it because it will look good either way. The theme provides the blogger eight pages to customize to your liking. We recommend this theme to those who are just starting out and want something very user-friendly and sophisticated at the same time.
8. Respo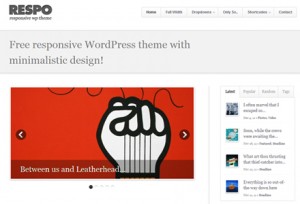 And now, our pick of the day –a minimalist WordPress theme for free! And that's not all—it is fully responsive and it won't cost you anything at all. If you possess Internet savvy, then you have free reign to customize each and every component and feature. The board is yours to explore and transform to your every whim. Respo is all yours to transform to the blog that you've always wanted.
7. Athena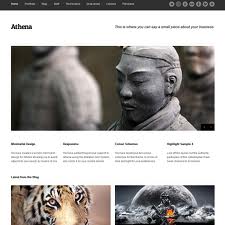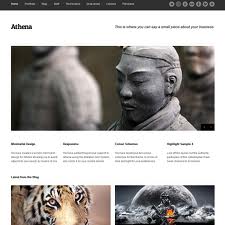 For businesses that use WordPress to present their product offers, Athena is the recommended choice. It is simple and easy to use because the designers consciously removed elements that would add any complexity to its structure. What for? To make things easier for you, that's why. But you may still customize and suit the final layout and content to your taste because it is fully equipped. You may add items on the site without needing to consult with anyone. Athena is truly simple and minimalistic theme designed for commercial use and so far no other theme is better at what it does.
6. Afternight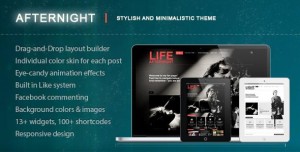 When you purchase this theme and start playing with it, you'll find out soon enough that you made the right business decision. Afternight is a smart investment because of its versatility. If you are maintaining an online magazine or maybe a type of place website then this is the template for you. It allows for a wide array of content type. All you need to do is drag and drop items. Before you know it, everything is in place in no time. Various display options are also available as well as a number of layout types. Essentially, you have here a theme with a minimalist design but with a full horde of great features—a seemingly odd, but ultimately winning combination.
5. Good Minimal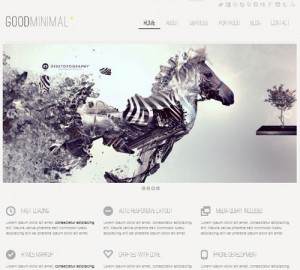 Good Minimal is built on CSS3 and HTLM5, making it a fully responsive theme. It is a great choice for a variety of blogging and portfolio presentations. You may use it to proudly share your online portfolio to the rest of the world. You may also use it to start an online business. You can count on Good Minimal theme to make your site look good in any screen. The same excellent display would appear on your laptop, iPad, or iPhone and you won't regret that you've made the investment.
4. Glider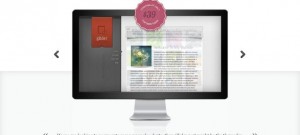 Glider is the brainchild of Tom Creighton. What he did to make this theme different from the rest is to provide the simplest content layout possible. He succeeded, and now with Glider, you only get the content while everything else moves to the background. It's a very good example of minimalist design, but there is however, a precaution. It is not designed for blogs who are archive-heavy.
3. Contrast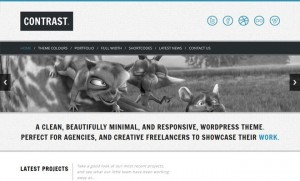 This theme has great readability and 100% optimized for mobile platforms. This premium WordPress theme will negate all your worries about flexibility and adaptability because it is designed to be fully responsive. With this template you can rest assured that your blog will look great on any hardware. You can also rely on built-in social media sharing icons to help promote and link your site.
2. Touchfolio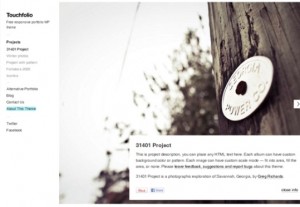 User-friendly interface and focus on content are the primary offers of this minimalist responsive theme. There's no denying that more and more people are browsing the Web using their tablets and smartphones. It does not mean that laptops are obsolete, though. It only means that website need to be able to adjust to whatever screen will be used to view content. And you get all these and more with Touchfolio.
1. Meeta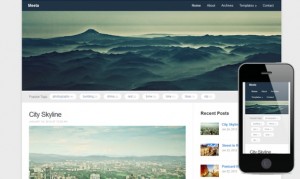 If there is talk of simplicity, then Meeta will always be part of the conversation. But do not misunderstand because simplicity is not synonymous to limited features. On the contrary, Meeta is 100% customizable. It is a premium choice for those who prefer to present their wares and content using widgets and layouts that are easy to work with.