It is every blogger's dream to create a blog that can go viral on the Internet, a blog that can become a household name, wherein everyone is familiar with what you offer and provide. Creating a sensational blog is rather easy for the committed and passionate bloggers because as long as you have great content that can help your targeted niche, then you are pretty much good to go. However, you are only fulfilling half of the equation. This is where one page website template designs come in.
These single page website designs are amazingly powerful! It can certainly make your blog become a head turner, for as long as you have the right design that exudes with awesomeness. So without further ado, here are the top ten one page website designs that can make your blog become a superstar!
10. Slate Studio
Super sleek and elegant with a simple grayish-black backdrop, this amazing theme is one of the most sought after single page designs on the Internet mainly because its interactive properties are not only helpful, but the overall concept is quite entertaining and very easy to navigate. Everyone who sees this design will be curious and that quick attention is more than enough to instantly boost your traffic. It is a one of a kind theme that can turn a boring page into full of excitement.
9. Eclipse Creative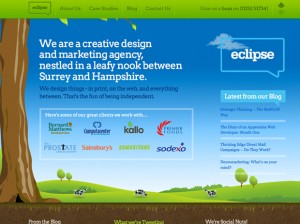 A first glance of this theme will immediately give you sudden visions of happiness and childhood. With its highly illustrative design that is colorful and cheerful, you can't help but become interested on what those clouds or cows have to offer. It is simple and easy to use, making it ideal for all ages. So why don't you give it a go and see how responsive your viewers are? Who doesn't want to be happy after all and this one pager is all about being jovial.
8. Massive Creative Agency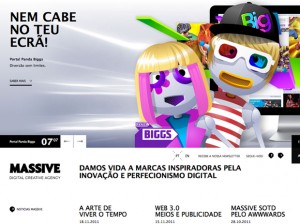 This one page design is certainly quirky, in a good way, because this particular factor can attract the interests of people surfing online. It is infused with advanced interactive features, thus giving each user a different experience. Its futuristic idea coincides with today's high technological trends, making you instantly look like a super blogger in no time! The main photo can easily be customized to your own preference as well as the categories and headings.
7. Stunning eCommerce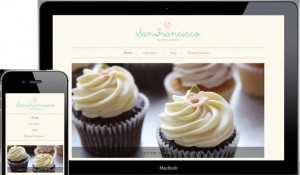 Are you looking for something simple? This elegant design can surely fit your standards. Its uncomplicated features and tasteful illustrative borders is the perfect solution to all chic bloggers who want to retain the focus of their audience on the content rather than the website theme. What this page does is that it can enhance whatever it is that is in your blog, further promoting everything in a very subtle manner. Now that is genius, don't you think?
6. Storefront Xyloto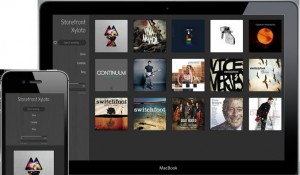 Here's a design that features photos instead of texts. The best part is, it is designed in such a way that music can be heard while you navigate the website. Isn't that lovely? It totally gives all users the value of their time by making the most out of its page through beautifully illustrated categories and wonderfully made audio on the background.
5. Stonex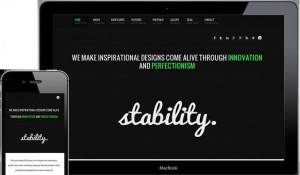 Ideal for business portfolios and business websites, this corporate one page website design oozes with power and stability in all the right ways. It has a simple black interface that is full of interactive features and social media connections. This can definitely make everything easy for the user to utilize this page that is so well thought of. It can fit all sizes, even the widest desktops available or the smallest ones on your phone.
4. Linguini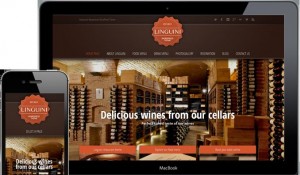 As the theme's name suggests, this one page design is perfect for all individuals who are in the food industry. From promoting a wine bar to opening a new restaurant, this earth-toned design can surely make everything look even more delicious! All in all, this page is very easy to use. It is gracefully created to suit the criteria of your audience and to fit the standards of the professionals.
3. Hero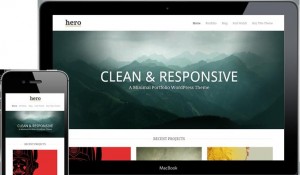 The name of this theme surely is fitting because it can certainly be a hero to your blog! This minimalistic, contemporary design is most suitable for the creative minds since it is a template that can show off all your best illustrations and products while pointing out all your services that the audience would possibly need. It is clean with a distinctive white banner on top, allowing you to effectively get your important message across to your readers or visitors.
2. Minimal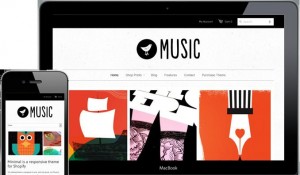 Responsive, simple, and clean, this design is fairly easy to use. It has four different kinds of templates – Music, Jewelry, Fashion, and Vintage. Needless to say, this theme is ideal for all fashionistas out there because everything that is on this design exudes a vogue-ish type of aura. Besides, this would totally look amazing not only on your computer or laptop, but it would look wonderfully sophisticated on any mobile device too. Now, isn't that awesome?
1. Impromptu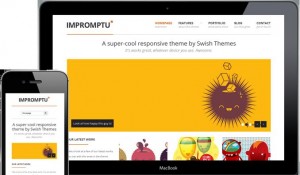 Now here is our top 1 for the best one page website design templates! Impromptu has everything that you want and more! It is very classy, is perfectly compatible with HTML 5, and its simple white background can be suitable for all kinds of products or blogs. Its minimalistic nature is certainly an eye candy for the professionals and the audience, making this design the most effective design to lure people into your website.
And there you have it folks! These top 10 one page website templates can greatly help you make your blog successful in the shortest possible time! Each design is carefully and specifically created to attract the attention of a particular niche. All you have to do is choose the one that is most suitable for your business, blog topic, or website. It is that simple and easy!