Are you growing tired of heavy graphics that most WordPress themes available are made of? Then, you should go and find a minimalist WordPress theme that will serve your purpose right but will not clutter your page with too much graphics. Heavy design has many disadvantages. It could slow down your site and it could also take away the attention of your visitors to what matters most and that is your content.
So, if you are ready to choose, we have gathered 10 of the best options available. This listing will help give you an idea what minimalistic but modernistic approach to blog design is all about. To be clear about it, there is no need for you to sacrifice the features of your blog to adapt a simplistic design that will give it a more professional appeal. You can well enjoy the features that will make your site functional enough but clutter-free in many aspects.
1. Magazine WordPress Theme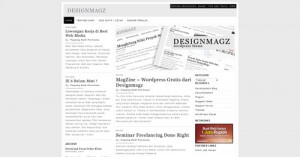 This is a nice choice for those who want to have something like an e-magazine page. This theme has many features that are quite very functional. The design is simple but it is not short of elements that will make browsing truly exciting for your site visitors. It is powered by an autogenerated thumbnail. An easy to configure category shows up, and there are support for threaded comments and a photo section. Plus, this Magazine WordPress theme is easily configurable within the theme options, which gives you lots of power to find whatever you want to achieve in terms of style.
2. Basic WordPress Theme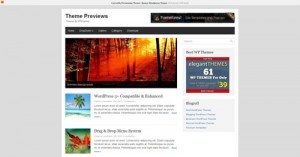 As simple as its name sounds, this basic theme allows for many attributes that will help make your page in minimalist but powerful design. It is powered by related posts with thumbnails, breadcrumbs navigation, multiple color schemes, dropdown menu, support for threaded comments, post featured images, and an optional timthumb image resizing among many others. This simplistic design has a very strong appeal because it is truly one of the best out there.
3. Studio WordPress Theme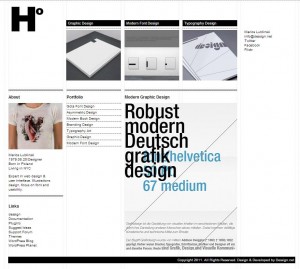 This one is the best themes for those artists and illustrators who want to showcase their creativity without the need for over-the-top graphics. It is simple yet meaningful. It is compatible with WordPress and with Safari. It supports theme videos. Most of all, it is made out for better search engine optimization.
4. Textback WordPress Theme
If you are looking for something clean and straight to the point, this is the right minimalist WordPress theme for you. It is definitely simplistic with its white background, uncluttered style, and modernistic design. Through this theme, you get the best of both worlds. It is minimalistic but at the same time modernistic, giving any type of blog an advantage on appeal.
5. Typogriph WordPress Theme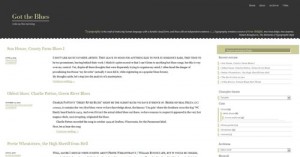 As mentioned earlier, adapting a minimalist design is all meant to highlight your content, which is the whole point of blogging. If you are looking for such a theme, this is it. It plays good value to typographic alone, with features that support WordPress 2.7. The two-columns, liquid layout arrives smoothly, giving you a no-fuss impression every single time.
6. Clear WordPress Theme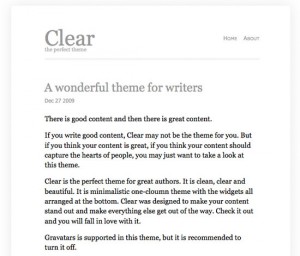 This is another theme that seeks to hail great content. If you write intelligibly, providing readers a nice insight on matters, you need not to make a strong impression through heavy graphics and glaring designs. This clear, minimalist design would be enough for you. It is a one-column theme that has widgets all arranged at the bottom, putting everything else out of the way to make the content truly stand out.
7. SimplePress WordPress Theme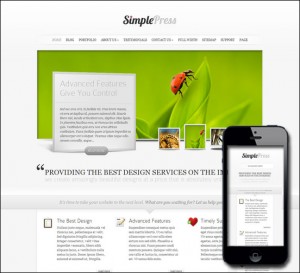 True to its name, this WordPress theme pays tribute to the saying "less is more". Its simplistic appeal creates a clean and professional look that will make any blog amazing. It pays to know that this is very business-oriented with clear hierarchy and a beautiful JavaScript slider. It is fully functional and crisp, giving you nothing more to ask for.
8. Professional WordPress Theme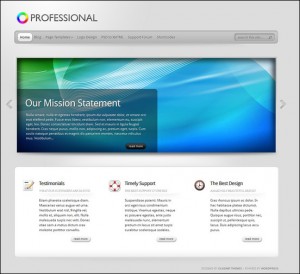 This WordPress theme combines slick and professional in a nice package that allows for easy navigation and appreciation. The design lacks all the extras that many bloggers find no need for. It is straightforward and functional, with three columns of short blurbs that are easy to digest. It is also powered by a prominent slider that gives readers a clear call to act.
9. Nameless WordPress Theme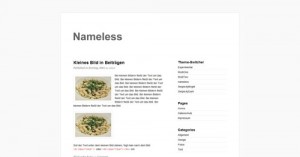 This minimalist and simplistic blog theme will provide for all your needs in a fuss-free manner. It is straight to the point, hitting the right target by adapting to the blogger's needs.
10. Chameleon Simple WordPress Theme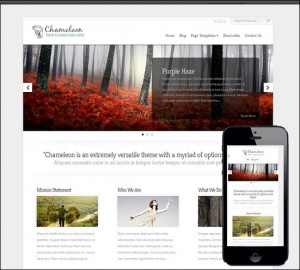 This simplistic blog theme follows the attributes of a chameleon, which changes in an endless choice of skin colors. With lots of customization options, this theme comes in as clean and professional, giving off a no-nonsense design. What's more, it is very easy to deal with. You need not to be a seasoned web developer to break through the codes and utilize the appeal of this design.
A minimalist WordPress theme is simple and beautiful. It is clean and straightforward. It does not take away the attention of your site visitors from what counts the most: your content. The 10 mentioned above fit the bill perfectly. They are simple, beautiful, clean, straightforward, and comes with features that will make your blog fully functional and user-friendly.