Looking for free custom WordPress themes isn't that hard. There are tons of websites offering a taste of original creations from different designers and developers. Supposedly, nothing is free for the taking, but in order to get noticed, it is not such as bad idea to give things away once in a while. Creating your own blog requires plenty of effort and time. Using custom themes for instance would let you save a lot of time in building your web project. There are so many to choose from and since there are enough to choose from you will certainly find the right theme for your project. It would require a few tweaks to suit your taste and your blog or web page will look as you've imagined it. These themes were made to showcase your content as you have never seen it before. Each and every theme is designed so that you and your viewers would want so much more.
10. Great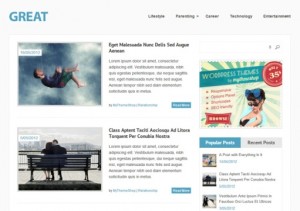 Great is one of the most responsive WordPress themes that would appeal to any viewer. A distinctive feature of this theme is the incorporation of a translation function that enables the user to view the contents on their native language. The background is not very catchy but you can choose from a list of options to suit your preference. Any blogger would find this theme appropriate to their needs. It might be simple but is it elegant in its own way.
9. Responsive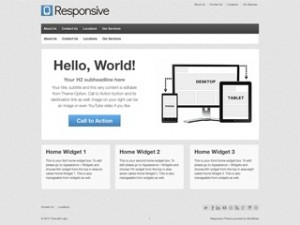 Responsive lives up to its name by being a simple yet manageable responsive custom theme. The features of this theme allow you to access anything in you blog without any hindrance or complication. The user interface was designed to maximize the layout of your posts since the area allows you to utilize every inch of the homepage. The design is very plain but with some slight modifications, you can make look more to your taste. There are also widgets that are built in with this theme which you can utilize to fit your preferences.
8. Balloons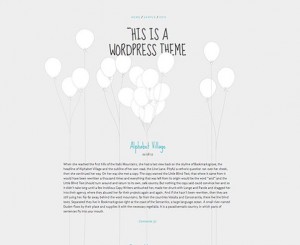 Anything designed with balloons can't go wrong. This custom theme has a minimalist approach which allows the reader to focus more on the content rather than the background or graphics. This theme is also among the first to use a multiple scrolling feature that allows the user to use the scroll at varying speeds. Even though the designs are only balloons, this theme would be perfect for event blogs or personal blogs.
7. Big Square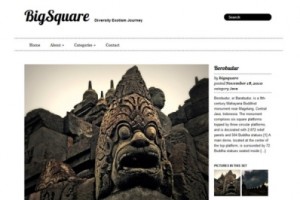 Big Square is a theme that allows for large photos or artwork which takes up almost three fourths of the homepage. As such viewing images and on this theme can be a truly amazing experience. Since this theme allows you to post huge images, it would be suitable for bloggers who want to showcase or sell items. With this, readers will get a nicer view of what you're offering.
6. Busby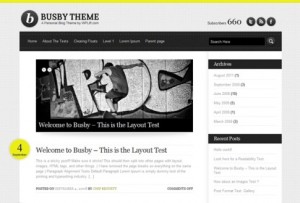 Busby is a free theme and perfect for bloggers who has something to blog about every day. It uses wonderful colors and fonts that make this theme very attractive to view. If you have the knack of blogging on a regular basis, this theme would definitely make increase your following. The design of this theme was made to highlight the posted dates so that your readers will immediately know if you have a new blog. With that in mind, if in any case you were unable to blog for a couple of days, your readers will certainly notice and clamor for more, thanks to the theme.
5. Skeleton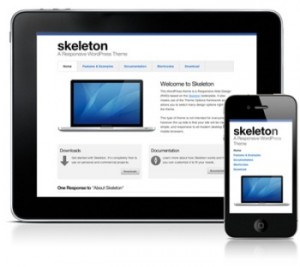 Skeleton is a very flexible kind of theme. Setting aside the fact that it is very responsive, this theme is somewhat bare given that the design does not really give you anything much. On the other hand, it allows you to do some modifications on your own. But it is still fully loaded because all the necessary features for a fully functional and interactive theme have been incorporated in it. It also has widgets which you can use on whatever which way you like. Versatility was the aim when this theme was created.
4. Workality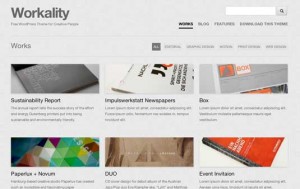 Workality is a very cool theme since it has all the necessary elements in showcasing your effort. This theme is very interactive since it allows you to fully feature your articles, photos and videos in a manner that everyone can appreciate. It is also made to be viewed on any kind of browser. Its scale can also be adjusted to any type of multi-media device. That's what a responsive theme is all about.
3. Ebuy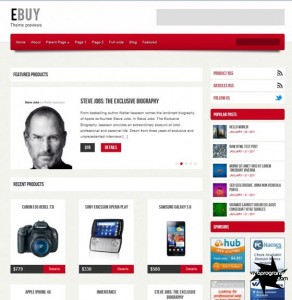 Creating a blog for ecommerce is steadily increasing. Since more and more people are being engaged in using computers for their day to day activities, it is not a bad idea to use blogs in order to sell some products. It is definitely a great idea since it allows you to fully describe and feature any product you are offering. Testimonials can also be posted on your blog allowing prospective clients know what your business is all about.
2. Fotofolio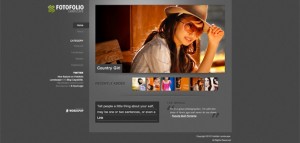 Showcasing your content is the most important function of a web page or blog. Fotofolio allows your images do all the talking. It has a very huge area for posting images. With this type of design, readers will be stunned even before they start reading (and that's actually a good thing). This theme is perfectly designed and the layout looks great. The functions and other features also compliment the needs of the viewers.
1. Polar Media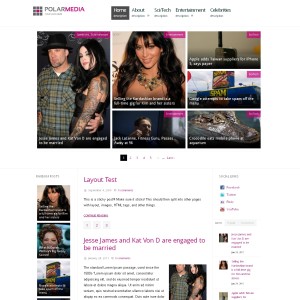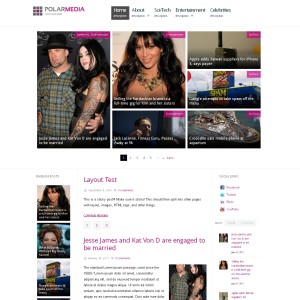 Polar Media is a well designed custom theme. If your blog is all about current events or showbiz news, this theme would suit you perfectly. Polar Media differs in the way that it defines your content. The format it uses is very unique and allows you to fully utilize this theme to its maximum potential. Packed with the features and functions of a well built custom theme, designers and web developers can expect one of a kind web projects using the theme.