Today there are probably millions of websites that have been created and are being maintained using WordPress. This great tool was intended as an easy way to set-up a blog; however, thanks to the efforts of the open source community of programmers, it has extended way off its limits. Creating a new site is exciting, and having a great design to back up your site is even much better especially if you are planning on making a music site. IF you are a solo musician or you have a band and you are looking for a great theme for your very own music site, there are ten great music WordPress themes that you should really check-out!
10. Night Music Theme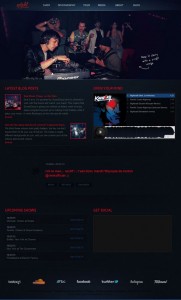 http://foxhoundbandthemes.com/themes/night-music-theme/
This drop-dead gorgeous WordPress responsive theme created by foxhound Band Themes is perfectly designed for DJs and producers who want to build their own music and band site. The homepage slider is designed to allow site owners to showcase and sell their music videos and at the same time, collect the emails from their fans so they will be able to keep in touch with them. This theme features a custom SoundCloud player that is like no other. This great feature works on any device with all the SC benefits intact.
9. The Music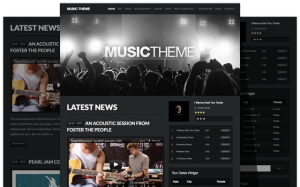 http://www.organicthemes.com/the-music-theme/
This is the ultimate WordPress theme created by Organic Themes for all musicians and bands that want to build their own music site. These theme features all the things musicians need in their site to promote their talent. This great music WordPress theme provides a website solution that allows bands and musicians sell their music and merchandise, make a list of dates of their activities and display their discography. The theme also features a fully responsive layout that works perfectly on mobile devices, an HTML5 audio player and a custom tour date widgets and several great templates.
8. The Continuous Player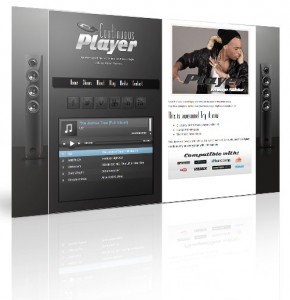 http://alohathemes.com/themes/continuous-player-wordpress-theme/
This is a great responsive WordPress theme brought to the world of music sites by Aloha Themes, which has been created to perfectly fit the needs of musicians, DJs, bands, clubs, lounges, Web designers and even avid music fans. This is a game changer theme that allows users to play music or music video continuously while roaming from page to page without any interruption. This will surely give the visitors a whole new experience on the music site by eliminating the frustrating start and stop of music when browsing on different pages.
7. Soundboard
http://themeforest.net/item/soundboard-a-premium-music-wordpress-theme-/2558532
This is a powerful WordPress theme from the ThemeForest packed with special features designed for both solo artists and bands. With Soundboard, site owners can easily display their tour dates, videos, images and discography. The theme has pretty much all the user's needs in a band website, such as 5 custom post types, 7 custom widgets, 7 page templates short codes and many more great features.
6. Soundstage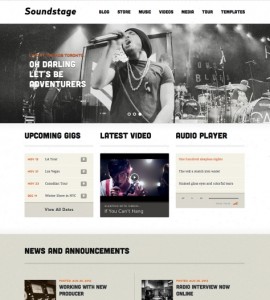 http://mintthemes.com/themes/soundstage/
Soundstage from Mint Themes is a premium WordPress theme for musicians and bands that load almost instantly with its slick home page layout and impressive slider. This theme offers a complete website that any band needs. It includes an MP3 streaming with an online store, videos, photos, discographies, blogs and tour dates of the band. Selling band merchandise is also as easy as a snap using this great music & band theme with its complete WooCommerce integration. From T-shirts to music, any merchandise that the user wants to sell can all be easily and completely managed within his or her WordPress back-end.
5. Slipmat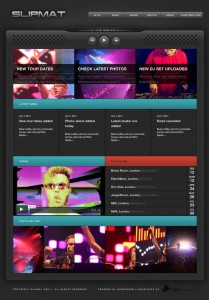 http://demo.mintthemes.com/slipmat/
Another great music and band WordPress Mint Theme is the Slipmat. This theme is specifically designed to cater to music artists and DJs. The theme includes solution to every music site need including videos, photos and MP3's. This theme is jam packed with music-related features so the artists and DJs can easily get a great site running out-of-the-box. There are also included customizable download links that users can hook into SoundCloud, iTunes, BeatPort and any other music service in the web.
4. The Grammy Theme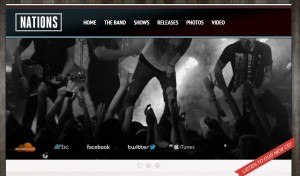 http://foxhoundbandthemes.com/themes/the-grammy-theme/
Foxhound Band Themes presents yet another great music and band theme, The Grammy. This is a professional theme, which is great for agencies or labels that need a cool layout that would fit the wide array of bands and music genre. The theme comes with 12 different selectable social media hubs and users can add their music videos and biography, blog their fans, embed their SoundCloud tunes, 8 background colors schemes and recruit fans to their Facebook page or newsletter. 8 background colors schemes.
3. Brooklyn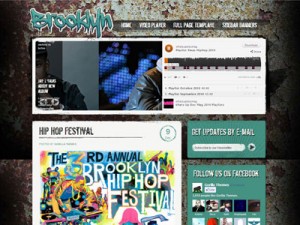 http://gorillathemes.com/demo/brooklyn/
Gorilla Theme adds another great WordPress theme, the Brooklyn. This theme is designed for artists, bands, en musicians, bloggers and members of the music industry. The theme comes with a 3 minute installation network and features an elegant slideshow module on the homepage together with an Audio-Video player embed module which is highly compatible with iPad, iPhone and other Android devices that allows the site owners to add their html5 code from their favorite sharing network.
2. Fan Club Magazine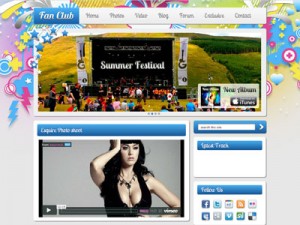 http://gorillathemes.com/wordpress-music-magazine-theme-fan-club/
For musicians, bands, artists and fan clubs who want to their work with their own style, Gorilla Themes presents the Fan Club Magazine Theme. This theme features a beautiful slideshow module on the homepage that allows the users to showcase their events and best photos and it comes with an easy one-click installation, Twitter and Facebook widgets, banner management and other great features.
1. Unsigned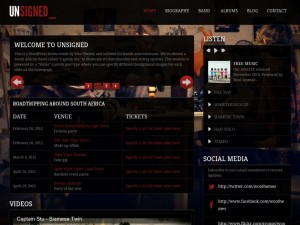 http://www.woothemes.com/products/unsigned/
One of the best and certainly powerful and feature jam-packed music WordPress themes brought by WooThemes is the Unsigned theme. This great theme has been specially designed for musicians and bands to display their music, photos, music videos, tours, and band members and even allows the users to sell their albums, songs, T-shirts and other merchandise all thanks to the WooCommerce Integration. The Unsigned theme is designed with a responsive layout and largely powerful, brilliantly developed, but easy to handle. The theme also features modules for every upcoming event, music videos, photo galleries, discography and other great features.