Many are into the food industry nowadays, and there is so much competition that is happening. Mostly, business owners have decided to put up their online websites to let their customers know about the food place, their menu items, their locations, and other things concerning their business. Restaurant WordPress themes has become popular for almost all restaurants, cafes, bars, bistros, coffee shops, and others so that they can also communicate with their valued customers online.
Specifically made for restaurant websites, these themes will surely help you when it comes to better content management. Check out the list of exceptional WordPress themes available for every restaurant website. You will definitely love these following themes.
10. The Restaurant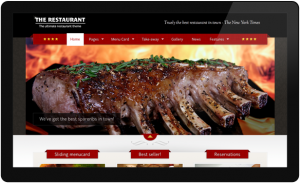 Make your valued customers impressed with your restaurant website with a sliding menu-card where you can set up numerous pages and exhibit them side by side like the paper menu. Perfect for any kind of restaurant, The Restaurant theme has several options of patterns, colors, and admin panel for this theme and it can be highly customized. It can even be turned to an e-Commerce website in no time. This theme from ThemeForest is in its version 4.4 and is compatible with Cart66.
9. Restaurant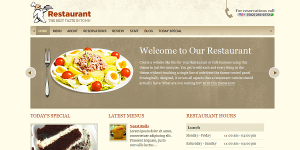 This theme is from Templatic. It is a very multifunctional restaurant template for you where you can be able to customize it without even moving a code from the control panel of the theme. Its scope covers all the features a restaurant website must have. Have this theme to develop an easier and faster online website made for your restaurant business.
8. Organic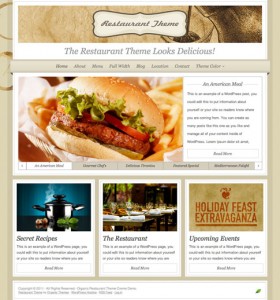 Organic theme features a well-designed styling and has three-color palettes known as crème (for cafes, tea and coffee shops), white (gourmet dining), and spicy (ethnic and Italian dining). It has a theme option page. You can even customize the header and background, menu management, type posts, and page templates. You can also feature images or put thumbnails. This is a widget-ready theme and has menu page templates, expanding footer widgets, and numerous homepage designs. Organic creates their themes with high quality and precision. This theme is made to be compatible to all modern browsers. This will be the perfect solution for those in the food related business.
7. Monmarthe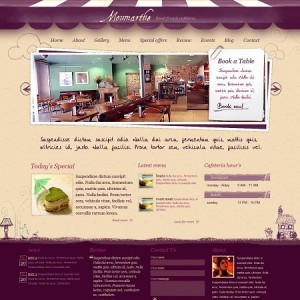 Created to have elegance and beauty especially for your restaurant or café, the Monmarthe theme is the best for you. It allows you to develop café directions, numerous menu pages, featured menu items, and also a blog. This has a unified lightbox for images, built-in contact form, gallery pages, and many more. Monmarthe is compatible to all browsers.
6. Gourmet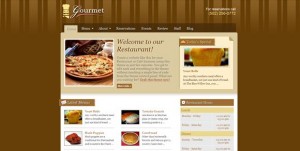 This Gourmet theme has all a gourmet restaurant must have. Its design is improved, is more logical and functions better. It follows the traditional way of showing the menu items with its respective prices, images, and other details. It looks like the traditional paper menu-card. You can even have multiple menu pages.
5. Foodilicious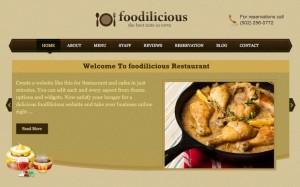 Foodilicious has a five-color scheme. It also has a single click to install feature so you would not to have to install it manually. Other features include excellent support, customizable header region, drop down and breadcrumb navigation, theme guide and tutorials, and built-in monetization for ads. This theme is widget ready and cross-browser compatible.
4. Ermark Adora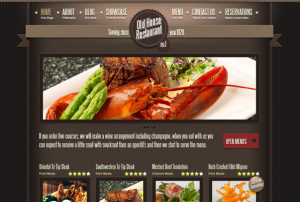 A clean and highly advanced theme that is best for restaurant websites. Ermark Adora features an improved menu management and reservations system powered by Ajax. You can customize what to post on your page like menu of the day, price options, single product page, restaurant menu, and a whole lot more. The theme shows a classic style, which uses various vintage elements. It is available in two color schemes namely brown and light. Also, you can easily share their links through Twitter and Facebook. A rating system for their menu items is also available in Ermark Adora.
3. Diner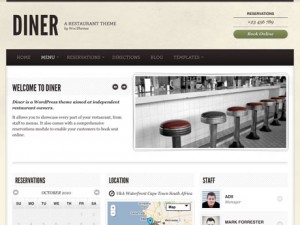 The theme, which can display your food menu, locations, online reservations, and more, the Diner theme has it all. You can easily customize your theme to display your menu effectively and efficiently. You can even integrate Google maps to show the direction to your restaurant and all its locations. Diner displays food lists and specials, reservation options, a slider for features, business hours, and a details module. You can enable or disable these features if you like. Plus, the layout is clean and spacious.
2. Bordeaux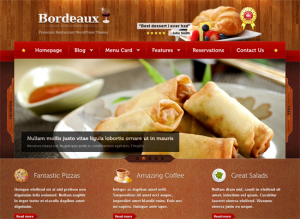 Truly exquisite this theme is. Bordeaux has a built-in system for reservations. Its menu card can be highly customized. Other features include a control panel that is so packed with features, a photo gallery for easy browsing of food presentations, a built-in contact form, and a homepage slider. You can also customize the logo and font and even Google maps can be integrated to your website to show your restaurant's locations and directions. There is also an available testimonial section placed in the header part of your website so that you can have great exposure from satisfied customers.
1. Aroi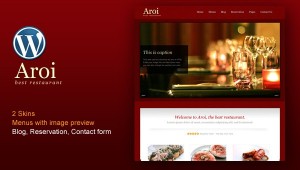 Aroi is especially made for the restaurant business. You can select between two skins. This theme has a reservation system and built- in contact form. The homepage has a content slider. Its menu options can showcase photos that you can even zoom in and out, as well as features details of every food and drink items. It has page styles and built-in reservation systems and an about us option. There is also an available thumbnail support. You can post blogs and comments.
For a surely better, advanced, elegant, and clean website, you can choose one of these Restaurant WordPress themes that are especially made for your food related business online. Your customers will no longer have any problems on how to contact your business; what food and drinks you offer and its corresponding prices, images, and other details; how to set for table reservations; where the nearest place is and how to get there; what time your business opens and closes; what the special events and other services rendered are; and any other concerns they may have regarding your business.