Web designing requires some serious training and strenuous hours of familiarization with a number of new techniques. It seems that something new comes out every minute. The speed by which new things are developed is so fast-paced that even professionals could get confused from time to time. Undergoing proper training and going through web design tutorial programs are the best ways to achieve full understanding of what web designing is all about.
There are websites that offer these tutorials for free and you can get really good pointers and ideas as well the basics in web design without needing to pay a fee. Each tool is different in the learning materials and styles that they utilize. In any case, the important thing is that with the tools that we are presenting here you are given the chance to learn something about web design.
10. Google Code University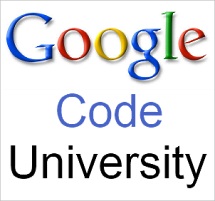 The tutorial from Google Code University is the right stuff for beginners. The developers from Google made sure that the tutorials they are offering will give the most inexperienced beginners a firm foundation in website creation. This amazing resource site also offers visual presentations for fast and easy recognition about the how's and what's of web design. The lessons include essentials and basics like JavaScript, CCS and HTML procedures. The rationale is to give the learners a better glimpse of what is in store for them when it comes to website creation.
9. Mozilla School of Webcraft
Like its close rival, Mozilla would not pass up the opportunity to share its thoughts on the subject. Their resource site is a part of a program devised by P2PU. P2PU, also known as Peer to Peer University is an online learning community that offers online education to those who are interested in learning various computer processes. It offers different courses and perspectives in designing a website that allows the student to be trained fully. Included in their program is a test which will gauge the things that you have learned while getting engaged in the tutorial.
8. Netmagazine.com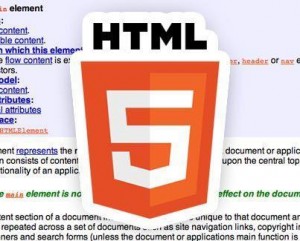 Netmagazine.com is also a good place to find awesome and easy to follow tutorials. This site however is more directed to the learning needs of advanced and intermediate web designers rather than beginners. It gives fully detailed instructions on different aspects of designing a website, from CCS tasks to HTML creation, plus tutorials about JavaScripts and more.
7. Codecademy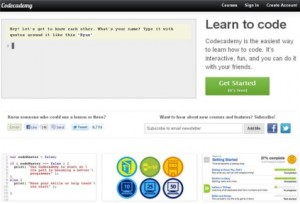 Codecademy has earned the respect of the web designing community due to its penchant for easy to learn steps and processes in coding and designing. It is free to use and the training program is essentially a step by step learning stair, making comprehension almost instant. The makers of this great resource made it possible to learn without having to endure boredom. This site also has a feature that allows learners to interact with others whom they can share their thoughts with.
6. CodeRacer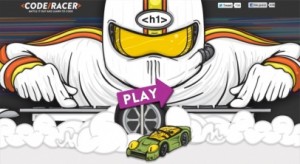 Nobody thought that learning how to design a website could be this fun. CodeRacer has changed the conventional view on how to learn the basics of web creation. It has a very engaging manner teaching the skills needed for you to be able to make your web site just the way you want it. It combines awesome graphical representations (with a racing game as a front at that). Kudos to the creators for their efforts at making something potentially tedious exciting enough to hook people.
5. Udacity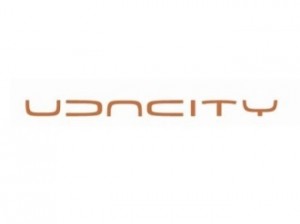 Udacity was developed by experts from the University of Virginia and Stanford. It is a free online site that teaches prospective students how to make and build their own web site. It has a very catchy tagline which says that in just seven weeks, you will be able to build your own web page! What could be better than that? All their lessons and tutorials are very intuitive and informative. They also provide extreme focus on the basics so that the students will have a firm and stable foundation on web creation.
4. Sitepoint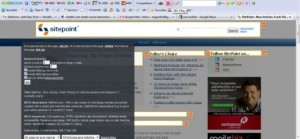 Sitepoint is a company engaged in selling designs for websites. It is a company based in Australia that is recognized by the whole world because of the quality of the outputs that they produce. Having earned a lot of respect in the web community, Sitepoint is also known to give free tutorials on the basics of web development. Beginners can benefit from their simple and engaging tutorials but they have chosen to provide more directed instruction to the intermediate learners and the learned designers.
3. Lynda.com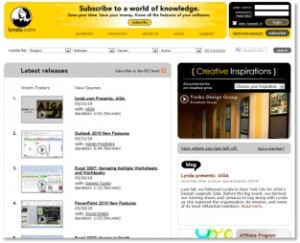 Lynda.com can be considered as one of the most prominent and respected sources of materials and tutorials on how to design a web site. For decades, Lynda.com has been giving high quality video materials in which you can avail for a certain price. Their instruction materials are not limited to video tutorials because they also have books and documentaries, if you prefer these media. Even though their sources are for sale, you can check out their materials by availing the free tutorials they have.
2. Treehouse

Treehouse provides high quality video tutorials on how to design a web site. It covers all aspects in the procedure including HTML, CCS, JavaScript and all the important elements in full detail and clarity. With the rich and vast knowledge this online source offers, they only charge a few bucks. Such in not a bad deal considering that what they offer could be used by the learner for a very long time. As bonus features, there are simple games that would test you on the things you have acquired and learned.
1. YouTube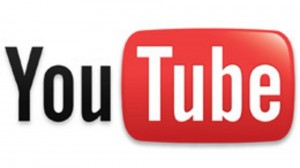 YouTube has been providing quality videos from different sources that may or may not be of any help. It is also a fact that there are web designers and developers who are willing to share their experience and knowledge for free just by posting their video tutorials in YouTube. What makes YouTube applicable to beginners or even advanced users is that any tutorial posted will be given comments in which you can depict what the video is all about and if there are elements that are lacking. This site provides engaging and helpful information which is free and available to everybody.