Not everyone is attuned in creating wonderful business card templates in Photoshop. It takes a lot of skill but what matters most is for the technique to specifically fit the goal of the business card maker. Every single entry makes a huge difference since business card details do not have that much space of paper. You can make simple business cards but you can also incorporate designs taking simplicity to the next level. In order for you to come up with wonderful templates, you can seek various business card template Photoshop tutorials to give you a sneak peek on the various techniques that experts use. You can actually learn a lot from this tutorial helping you to evolve more in the design and creation of your own templates.
10. Cartoony Template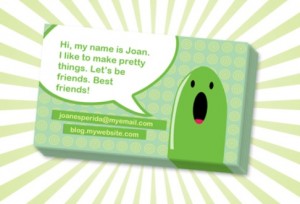 If you are engaged in a business that concerns anything related to children, or you just like to have simple cartoony graphics on your business card then you have to check out this wonderful design. You can create almost any kind of cartoon graphics. The options are limitless. This design offers basic and simple colors but you can actually change it to your heart's desire. The template is only a guideline that you can actually use as you see fit.
9. Retro Template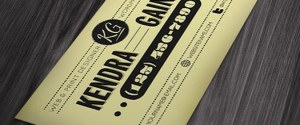 Having a retro-styled business card could do for any type of business, most especially enterprises that are engaged in dealing with antiques (or any old or retro stuff). Even if your business is not leaning towards that at all (and not even connected with the word retro) you can actually still use this if you like the way it looks. The design is just so flexible that it can be used by anyone. A retro-designed business card has many factors involved but the end result surely pays off since the design is rather unique and wonderful.
8. Photographic Negative Template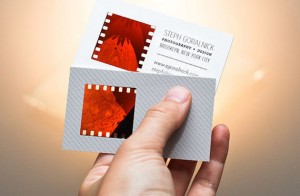 A creative and unique business card will rouse the attention of your prospective clientele. If you are in the business of taking photos or printing quality images then a Photographic Negative template is the perfect thing for your business card design. It clearly signifies the business you are engaged in, and some personal touches can even be incorporated, and that can help promote your work even further.
7. Space-Themed Template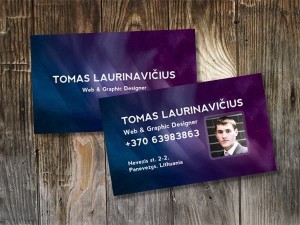 You do not have to be an astronaut to have a space-themed business card. You can actually have this easily made in Photoshop with all the cool stuff in space. Templates such as this can incorporate stars and planets for that space design. One of the most basic space-themed designs that you can use is the plain sky with stars background—a true classic if ever there was one. Creating this template from scratch might prove to be quite a task but that won't matter after you've seen the finished product.
6. Molten Chocolate Template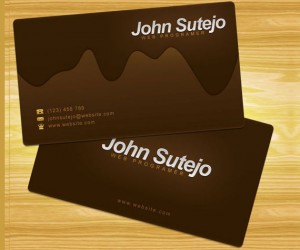 Using Photoshop in creating business card templates is like dealing with magic. You can just create awesome graphics and designs that fit everyone's tastes. This sweet and yummy template fits not only chocolate lovers but also those who are engaged in business selling chocolates or any sweet stuff. The design is very simple yet it gets huge attention due to its very tasty look. Someone might actually think that the business card you are about to give is a real chocolate bar with your name on it. Now, it would be interesting to see what reaction that one could get from a client. The effect is to make your card look very delicious and then you can try making real chocolate bars, maybe.
5. Grungy Template

The evolution in business card creation has reached new levels. It was first believed that a business card should look simple and formal but in today's modern world, a business guard that looks grungy is fully accepted. It is not bad at all to put a little attitude to your business card since it is like an extension of what you are and what business you are engaged in.
4. Doodled Template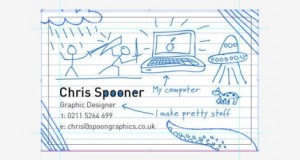 At first glance this design seems unattractive and messy but looking at it closely you can actually discern its cuteness and simplicity. You can make your children help you in this business card design if they like to doodle a lot. A project like this with your children will be good collaboration for the family as well. This type of design does not target a specific business so it can be used randomly as long as you like the doodle design.
3. Denim Template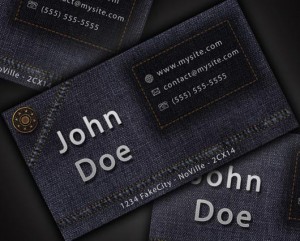 Tailoring and clothing shops often use simple and rather common business cards for their business. It would be perfect if they actually have a business card that is designed closely to what they sell or offer. A Denim template is very fitting for this type of situation. It's cool and unique and the clients would certainly relate more knowing that you are really engaged closely to your business. For some people, a business card given to them is like a representation of your own self. So it would be better if the business cards you give out look really great.
2. Asian Inspired Template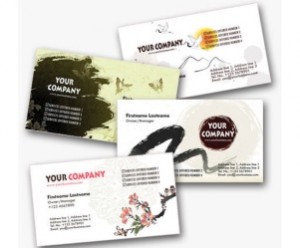 Asia has many wonderful places and is teeming with exotic plant and animal life. The region also has very rich cultures, so basing a business card on such grounds could be a great idea. Asian businessmen are also proud to incorporate their country's icons in their business cards for the whole world to see. Even though you are not from Asia and you like the design then having this template for your business would pose no problem at all.
1. Cardboard and Torn Paper Template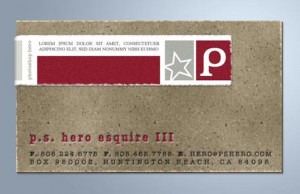 Sometimes the simplest design can actually look the best. This design primarily depicts a simple cardboard and torn paper look. It does not have a lot of colors on it but the level of sophistication can be clearly seen. The way this business card presents itself is just so strong. This type of design can be used by any type of businessman since it has an anonymous look on it. You are free to put your mark on it.