Gone are the days when you can just blog about what you're currently doing, what you're eating, and what you're thinking. These days, blogging has become a world for both the rookies and the pros, for both the casual surfer and the dedicated internet marketer. These top 10 cool WordPress themes will help get you started in changing gears and supercharging the look of your website. It won't hurt to upgrade a bit. In fact, it will definitely benefit you and the business you're running.
This list has every theme there is under the sun. Whether you're a photographer, a great writer, or a businessman, these cool themes will help jumpstart your blogging efforts.
10. Expression
At first look, the theme is packed full of pictures, which makes Expression a great theme for photographers. If you want to exhibit your works and market your skill to a greater audience, the internet is the way to do so. This theme displays most of your works at the first glance. It immediately gives the viewer an idea of your photo-capturing prowess. This theme is powered by Pexeto Panel. It also enables you to manage and modify the theme to your liking. Customization is easy, so go ahead and make this theme a variation of a style that suits you best.
9. SimplePress
Nothing says it louder than a few of the right words. When you want to capture the attention of a potential consumer, don't bombard them with your services and what else you can offer. Rather, make use of SimplePress, a clean WordPress theme to use for your business. It has a great feature which highlights the best of your company's services. Its integrated JavaScript slider, a functional gallery, and a blog section makes navigating this theme a lot easier for any market.
8. Avada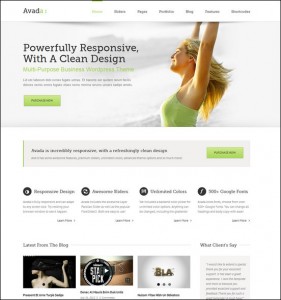 Avada is a wonderful choice for users who cannot seem to make a definite decision as to what WordPress theme to use. Avada makes it easier because it was created specifically for such a dilemma. This theme can be used for business, portfolio, corporate, products and many more. You won't have to worry about anything else because the layout is clean; it is flexible, responsive, and easy to use. It is built with HTML5 and CSS3 but that's not something you have to worry about if you're a noob at blogging. Avada also features customization options so you won't have to worry about another website having the same theme as you.
7. Responsive Full Screen Studio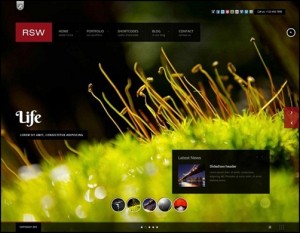 You got it; this WordPress theme gives you a full screen layout, making it a wonderful option for photographers and artists. Your stunning photographs and works of art will be displayed excellently in this type of theme. The theme features an unlimited portfolio so you can upload and showcase all your works and to have viewers see them in all their full glory. It supports various formats and is customizable too.
6. Nova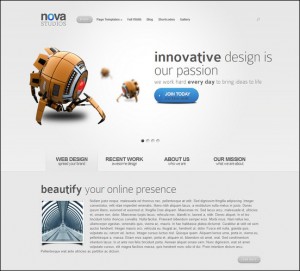 Almost everyone is going for the sleek look nowadays, so why don't you jump in the trend? Nova is a cool theme to choose and has a great homepage. It is simple but very sharp and gives the user an intuitive experience. It also has a Featured Slider, the most versatile slider in many ways that can really bring life to your website. There's nothing like a theme with a modern design that can do better to attract more viewers.
5. eList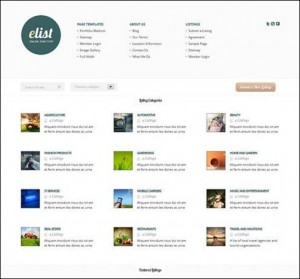 It's clean, it's simple, and it offers a unique take to presenting your website. It's a Directory WordPress theme and with it, you can make any online directory you have in mind. You can even allow visitors to your website to submit their own listings. It's interactive and unique since not many websites can apply this sort of template. The theme features an integrated eCommerce making the charging of your visitors a lot easier.
4. DailyNotes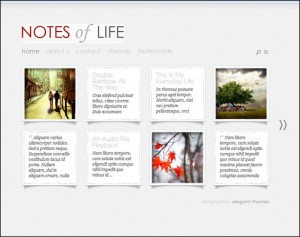 Rather than have your long blogs featured on the page of your website, try DailyNotes. This cool theme from WordPress is a great way to feature snippets of your daily notes. The theme features a minimal and fun design. It's also designed to be inviting, a feature you should definitely take advantage of. This is a theme recommended for content-rich website, particularly blog posts or articles.
3. KARMA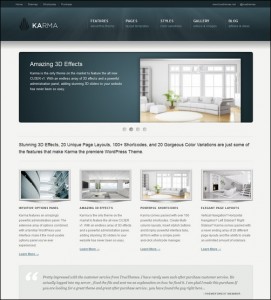 This Premium WordPress theme joins the top 3 in the list. The reason is that it is a cool and modern theme. It is also highly intelligent. It features the use of the new CU3ER v1 sD slider, which many people find very cool. It also comes with a variety of features that are easy to use. You can be a pro or a beginner and you won't have a hard time using this theme. It also has a sleek style which attracts a lot of visitors.
2. eStore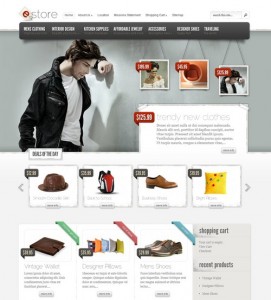 This theme definitely comes a close second in this list. It makes starting an online shop a lot easier. This theme is fully operational and comes with ecommerce plugins like the very helpful PayPal shopping cart. You can begin selling your goods in a matter of a few minutes. Its design is great and captivates many visitors, which means more transactions and more sales.
1. Made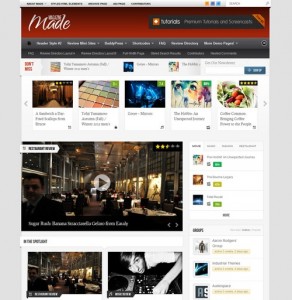 This tops the list for many reasons, but the one reason that carries the most weight is because it encourages viewers to linger on your site. With its many features, visitors are encouraged spend more time on your site. Aside from the fact that it can be easily customized to your heart's content, it boasts of great functionality as well. Users or viewers can leave ratings for all the posts you've uploaded. This makes it one interactive site that viewers would love to come back to each time. Using Made will surely make your way to success. All you have to do is upload the right content and you're bound to have a good string of followers in no time.