The creation of social icons has been long-seen as effective tools in promoting and improving websites. Becoming more and more popular, these tools do an amazing job in training the eyes as well as create new ideas and important information. When it comes to its creation, a specific icon should best represent a particular product, website, or company with utmost clarity and direct impact. It should be recognizable, functional, and best to represent anything. In order for social icons to stand out and show distinctive effects, it should contain a complete set of catchy design, right color preference, pixel sizes that are resizable, attractive background presentations, and should be unique or original. The right selection of these factors will determine the popularity of the icon among viewers. For those aspiring web designers/developers, social media users, and other individuals, here are the top 10 free social icons that can be used for personal or commercial projects.
10. Web 2. Origami Social Media Icons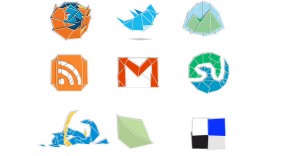 For those social media users, bloggers, or web developers/designers who appreciates artistry, the set of Web 2. Origami Social Media Icons offers creativity opportunities. All icons are origamized. Origamis are works of paper that are extremely beautiful objects with easy fragility that can be crushed in an instant. These icons look like real physically made origamis with aesthetic designing. There are a total of 15 sets with varying pixel sizes for customization purposes. These are available in transparent Pngs, PSD and EPS files for easy downloads.
9. Grunge Peeling Stickers Social Media Icons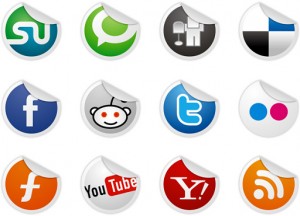 The Grunge Peeling Stickers Social Media Icons are intended for personal and commercial project usage. It has over 20 icons of popular social media websites that are made in Pngs format. The icons are designed in 128×128 pixel size with transparent backgrounds and can be resized due to the PSD source file, depending on the user's preference. The best thing is that you can do the designing of the icons through the site's read up feature.
8. Extreme Grunge Garments Icons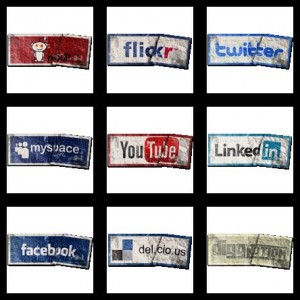 Though designed in a grunge-inspired style, the Extreme Grunge Garments Icons are of high quality and even hand made. It is an icon pack, showcasing innovative 9 Extreme Grunge Social-Media Garments with full quality definition. With a classic look, these icons are perfect for those who want to create artistic blogs, web pages and other personal or commercial projects. The Grungy icons are made each with the same size of 2565×256 pixels and are available in Pngs format with additional transparent backgrounds. It is great for deviant art creation and for social media sites that need a creative portfolio.
7. Handycons 2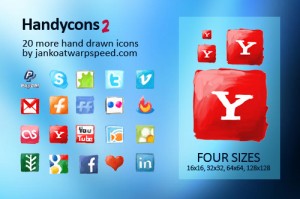 From the creation of Handycons 1, the version was upgraded and fully-refurbished into the Handycons 2. Its 20 and more icons are totally hand drawn, which creates an artistic impact to the viewers. Its package contains beautiful icons of famous websites such as Mixx, Facebook, Twitter, DesignBump, Reddit, StumbleUpon, Design Float, Developer Zone, as well as the Email icon and much more. The icons are available in 16×16, 24×24, as well as 32×32 up to 48×48 pixels.
6. Buddycons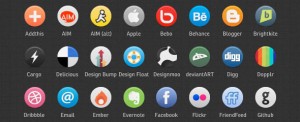 With Buddycons reaching to over 126 vector social media icons with beautiful aesthetic designs and clear interface, users can have a wide option to choose from with their web designing/developing, blog making, and other webpage enhancement projects. The set of icons are designed by Orman Clark, a web designer from UK, who made it exclusively for the WDD. These are exclusive icons with circular or rounded presentations of known popular websites that can only be downloaded from the original website. If the user recommends the icons to a friend or contact, they should be directed to the original web page for personal download needs.
5. Orb Social Media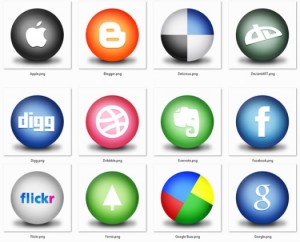 For those blogs and other social-media websites that are looking for a simple yet clean and clear social icons, the free Orb Social Media is the perfect icon set to use. It is an Icon Pack of 32 orb-designed icons. It has various designs of social popular web services such as Digg, Facebook, Twitter, StumbleUpon, Google, Flickr, and much more. Each icon is designed with 256×256 pixels that are available in PNG format. The icon pixels can be resized depending on your needs.
4. Old Bottle Crowns Icon Set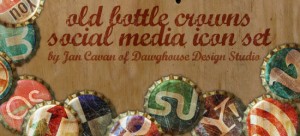 Consisting of 20 social media icons, the Old Bottle Crowns Icon Set presents aesthetically designed icons of popular sites. These include Digg, Delicious, Twitter, Stumble Upon, and much more. With the theme of worn-and-torn designs, these create a grunge and classic look to any web page or project. The pixel sizes are 200×200, in PNG file format, can easily be resized and edited. This set imposes great originality.
3. Social Media Balloons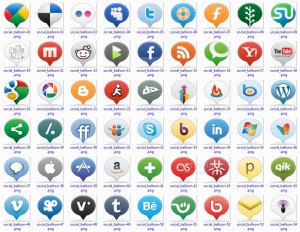 The free Social Media Icons got ample positive feedbacks from users and even requests for more of the designs. With that in demand set of icons, the first produced 28 icons have extended up to 64 icons at present. The numbers of Social Media Icons are increasing in reflection with the mushroom-like creations of new popular sites. For more customization options, the icons are available in varying sizes of 32 pixels to 128 pixels. Its transparent PNG format design gives stand out attraction. This set of useful icons can be used for any personal or commercial project.
2. Social Snow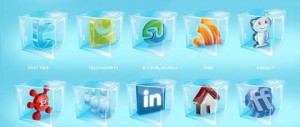 With the advancement in technology comes the creation of state-of-the-art icons. The Social Snow free icons are wonderfully designed, inspired on 3D like presentations. Each of the icons is made in PNG formats. The sizes are only in 128×128 pixels, but can be resizable by the user's needs. The ice blue colored background is made suitable and relaxing to the eyes. Though it seems sophisticated in design, the Social Snow icons are made totally free for personal use.
1. Social Buzz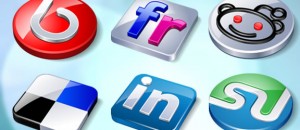 Packed with over 12 icons, Social Buzz Icon Pack is one of the most worldwide renowned designers of state-of-the-art social media icons, either for personal or commercial purposes. Without the need for attribution, the icons can be downloaded and used. The full set covers Delicious Icon, Facebook Icon, Digg Icon, Flickr Icon, Google Buzz Icon, Twitter Icon, MySpace Icon, and much more.